Today, we are talking about sales!
As you might have noticed, I recently had my first Black Friday promotions on this site. I was a really fun and busy week, and I learned tons of things while doing it. I have also recently started working in E-Commerce, which gives me a brand new point of view on this subject.
So I thought I would share my finding with you and give you a little guide to do your own sales campaign.
A One-Person Sales Operation
In big companies, they have a lot of people to operate sales. This is why they are able to plan regular discounts, offers, sales campaigns, reductions, flash discounts and much much more.
However, when you sell your art, usually you are on your own to make all of that happening. Your whole operation, from the creation of your product to the packing and sending to customers is solely reliant on you. Therefore, to plan and execute a promotion such as Black Friday, you have to remove your "artist" hat, and adopt a myriad of new responsibilities.
To make things simpler for you, I have divided the work in easy steps.
Step 1: CEO
First, you need to make crucial decisions:
What type of sale are you going to run: discounts, offers, bundles, gifts or a combination of all?
How deep of a discount are you prepare to make: 10%? 20%? 30%?
Which products will be impacted by your sales: all? Or a selection?
How long will the sale run? What's the timeframe?
These decisions need to be taken in advance, and I suggest that you work with a calendar, so that you can get everything ready on time, without panicking at the last minute. You can also inform your customers more efficiently if you know what's coming.
For example, for my Black Friday sale, I decided to discount only my first book in eBook and Paperback (but not in Audiobook), up to 25% (depending on the currency and the format). I also decided to discount my book bundle, to make the sale even more attractive. And I decided that the sale would run between Thursday 26th of November and Monday 30th. I worked with a detailed calendar where I knew what needed to be achieved each day to stay on target.
Step 2: Tech Wizard
Once the decisions have been made, you become the person who can make things happen. At this step, you need to make sure that everything that's planned is feasible:
Is the platform that you use able to do discounts/promotions?
If you use a third party, what do you need to get the sales going?
What exact price are you going to charge for each level of discount?
What assets do you need?
For my Black Friday sale, I had to be on top of all the platforms I use to sell my books. I had this website of course, but also Amazon, Kobo and Barnes and Noble. Some of these made it pretty easy to do a sale, while others (*coughs* Amazon *coughs*) are a real pain when it comes to changing price for a limited time. I also had to plan WHEN exactly to change the prices, as some platform needed 24-48h to reflect the changes that I made (and same when I changed back).
And finally, I had to plan how many banners / images / illustrations I needed to represent the sales on the website and on social media.
Step 3: Designer
That's when I changed my tech cap to a designer's hat (lol, I wished!)
At this stage, you need to produce all the visual elements that you are going to need for your sale:
Banners
Logos
Social medial illustrations
New photos of your artwork
New fonts or colours
etc…
This step can be pretty daunting if your strengths don't lie in visual design. I certainly find it very difficult to be creative, and at the same time make sure the message comes across properly. So I went with a very simple aesthetic.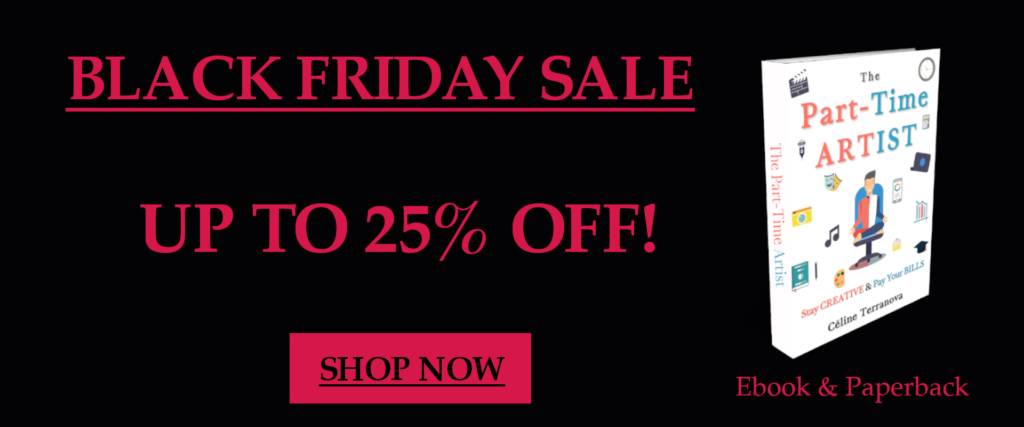 You don't need any professional software to achieve simple assets like that. I use Gimp, which is free, albeit a bit complex to master. The main constraint with this step is that it often takes A LOT more time that you'd think.
Step 4: Marketer
Now that everything is ready, you need to communicate your promotions to the potential customers.
There are many avenues where you can find people interested in your art:
Your own website: banners, images, blog posts, SEO optimisation…
Social media: Twitter, Facebook, TikTok, Instagram…
Newsletter: via direct email or a client such as MailChimp
Paid advertisement: Amazon, Facebook, Google…
Press: online or physical
Podcasts and Youtube: your own or interviews
etc…
Ideally, you don't want to just tell them that you are doing a promotion. You also need to communicate how much they can save, why they should buy now and what products are included.
It's OK at this stage to go "heavy" on the promotions. I usually publicise my books once or twice a week on social media, but during Black Friday I tweeted every day, sometimes more than once, about the sale on my website. Make sure, however, that you vary your message. I scheduled all my tweets with TweetDeck so I could see all of them in one place and make sure the wording and core message was different. I also sent a newsletter specifically for Black Friday, which was different from the other "summary" newsletters that I usually sent. Finally, I didn't use other avenues of promotions due to a lack of time.
Step 5: Data Analyst
The promotion is over. You have removed all messaging, visuals, discounts. You've reverted the prices to their original ones. Job done?
Well… not really. It's time to assess how you did and pinpoint what you did well and what could be improved next time. The number of sales, of course, is the first thing you should look at. Have your sales spiked? How many units did you sell during that time? Is it better than usual? How much money exactly did you make? How much did you lose in discounts?
Then, we get more technical. Other metrics could be important for you. For example, what was the traffic on your website / store during the sales? Which pages attracted most customers? Which ones made them leave your website? Where did these customers come from? Google? Facebook? Twitter? And what was the typical profile of your customer? Google Analytics is a fantastic tools to use for this kind of work. It gives you great insights into what happens on your website. I also use Mouseflow, which provides you with heat maps and recordings of what people do on your website. It helps you determine problems and hesitations, as well as rethink your pages to convert visitors into customers.
All this data will allow you to make changes to your website, communications, products, pricing so that your next sales will go even better.
During this Black Friday sale, I sold more units of my books than I would have normally. I also got more traffic on certain pages, but I noticed some problems with my store. The layout was probably a bit confusing for my visitors and therefore most of my sales happened via a more familiar medium: Amazon. This is valuable insight that I will use to do things better next year!
In Conclusion
It might feel a bit daunting to do a promotion / sales campaign for the first time. But if you follow my little guide, you'll be in a great position, no matter what type of artist you are!
If you have any questions, let me know in the comments.
Céline is an author passionate about helping fellow artists reach their potential and live a happy, balanced life.