This week there was a Twitter storm in the writing community because someone said that writers should take a loan to pay for an editor (which can cost several thousands of pounds/dollars). There was an uproar of course, because this was a terrible piece of advice.
I don't think artists should put themselves in a dire situation to be able to pay for their art. So today, I'm going to give you some tips if, like many of us, you are on a budget and still want to invest in your art.
Free Options
There are TONS of free options that you can use to start off. Whether it's using your local library to get reference books, using public areas for films or photography, or using facilities at your school, there are probably a lot of ways you can do what you need to do for no money at all. Before you think about paying for something, research to see if there is a free option first.
For example, when I needed an image editing software but couldn't afford Photoshop, I looked around and discovered the fantastic Gimp. It took me some time to master it, but it helped me a lot. I even used it to make the cover of The Part-Time Artist!
Free options will of course not always be as good as the paid ones, but it's a starting point. And it's better than being blocked and not being able to do anything because of a lack of budget!
Do It Yourself
There are a lot of things that you could do yourself, if you learned how to, and it could save you A LOT of money. For example, you can learn how to make a website yourself, thanks to tons of tutorials online. I make my websites (including this one) with WordPress, and I find it very intuitive. I usually look at other people's websites and I watch Youtube videos to see how I can do something similar.
Before you think about paying someone to do something, try to do it yourself, and use any tutorial you can find to learn how to do it properly.
Ask for Help
Another way to save money is to see who around you could help you do something for free or for much less money. For example, if you need a place to exhibit your paintings and can't afford to pay for a gallery, do you know someone who owns an interesting location and who would be happy to let you use it?
Do you have friends who could work on your film shoot, or your fashion show, or your gig? In my experience, a lot of people are happy to give you a hand if you ask them (as long as you are correct with them). When you are on a budget, don't hesitate to ask around!
Seek Other Beginners
Let's say that you need a headshot to start applying for acting gigs. Headshots can cost a fortune with professional photographers, and not many new actors can afford it. A solution is to seek a photographer who is starting out and trying to build their portfolio. You can strike a deal, get these headshots for free while the photographer can use them to publicise their services. Everyone wins!
Or let's say that you need a new scene filmed for your showreel. You could try to see if someone else needs a new scene too. You can pair up and pay for it together, which is going to be much less costly.
Or you can use websites such as Fiverr where a lot of freelancers seeking experience can do what you need for a fraction of the price. I've used it for illustrations, and I was really pleased with the results!
You are not alone in your art, other people need to start too. Yes, again, the result might not be as professional as if you had paid a confirmed professional, but it is a starting point. And you might be surprised at someone else's talent!
Sales and Salvage
Equipment and materials can eat on your budget, and it can be impossible to avoid for some artists. However, there are ways to find what you need for less money. Second hand shops, business that are closing down, even junk yards are sources of materials that you could use.
I used to do cosplay, and I was completely broke at the time, so I became very good at finding what I needed in other people's rubbish. Again, there are tons of videos and tutorials online about how to turn something that is not ideal into something amazing. Some artists have made it their specialty!
Save in Advance
That's also something that I've learned to do over the years: saving for my "writing fund". Instead of having to pay for something when it comes up, I have been saving for a certain amount of time, so it is less difficult. For example, I saved some money from the moment I started writing my novel, because I knew that I would need an editor at some point. It took me almost two years to write the first two drafts, which meant that I also saved during these two years. When it came to paying for an editor, I had a certain amount of money that I could spend.
So, if it is possible for you (I know that not everyone can save money every month), try to set aside a little amount for your artistic career. Even if you don't know yet how you will spend it, it will help you in the future!
Crowdfund
Last, but not least: crowdfunding! Sometimes, none of the previous solutions work because the amount of money you need for a project is too great. In that case, I strongly recommend that you take a look at crowdfunding. That's how I made my short film, Sherlock Holmes and the Stolen Emerald.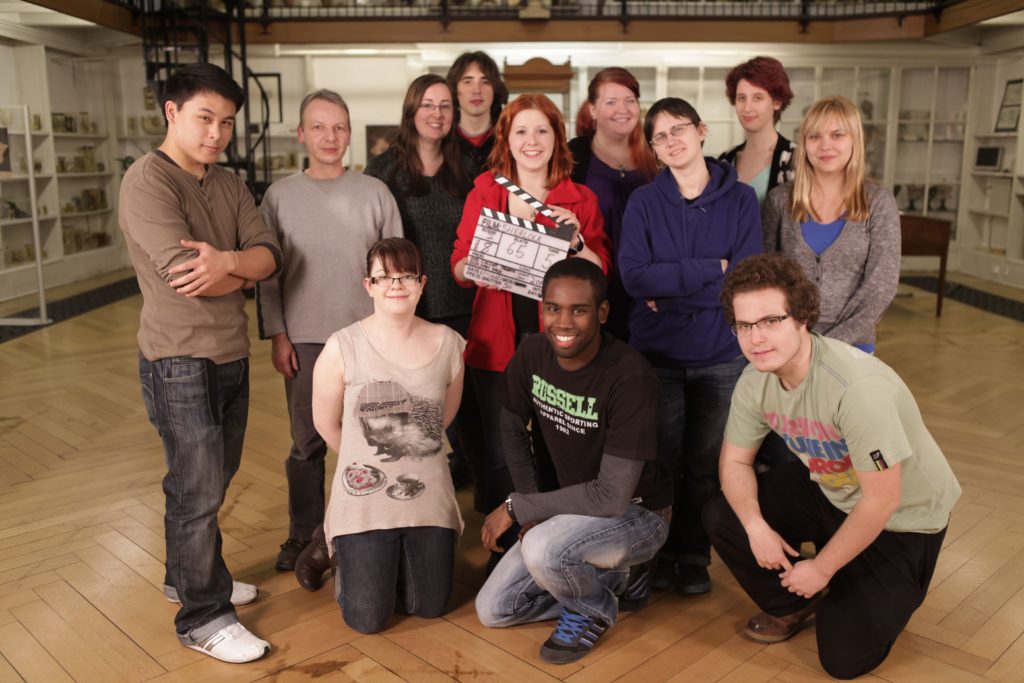 There was no way I could pay for it myself, even despite getting a lot of people working on it for free, and being very lucky with a cheap location and affordable costumes. So I decided to do a crowdfunding campaign on Indiegogo. It was a lot of work, and a lot of stress, and we didn't reach the goal we had set, but the money we got was enough to make the film.
Crowdfunding is a rollercoaster of emotions, but it's a fantastic tool for artists who want to tackle a big project.
In Conclusion
In an ideal world, all artists would have an unlimited budget and we would be able to pay professionals to help us every step of the way. In reality, artists have to be crafty to make extraordinary things without breaking the bank. I hope that these tips have given you some ideas and that you'll be able to use them in your artistic life!
What are your tips to do art on a budget? Share them in the comments below, so other artists can use them!
Céline is an author passionate about helping fellow artists reach their potential and live a happy, balanced life.