This is an official announcement: my next book, Happy Not Tortured: A Mental Health Guide For Artists And Creative People, is now available!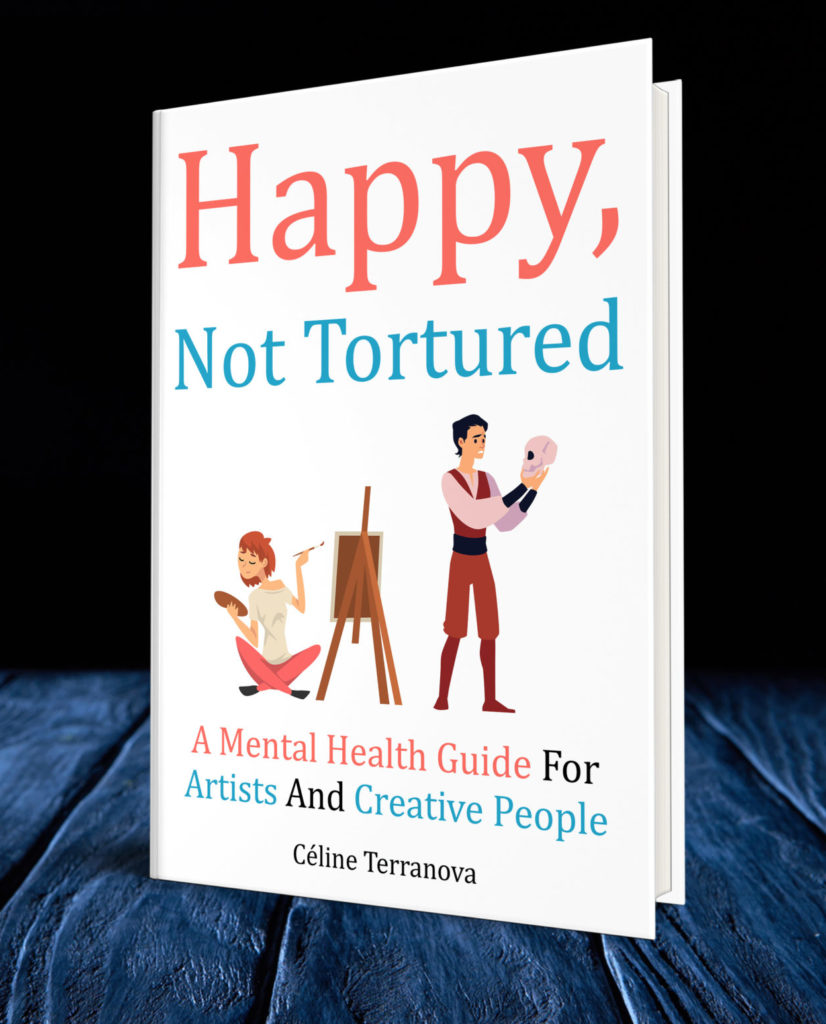 Being an artist doesn't mean that you have to suffer!

Bad days happen to everyone. But how do you keep working when there are more bad days than good days? When your mental health takes a toll on your creativity? When anxiety, depression, self-doubt or imposter syndrome prevent you from doing your best work?

In a world where artists are perceived as "drama queens" and are expected to "get on with it", this book shows you that there is a way to take care of your mental health while continuing to create.

There's no need to be a tortured artist anymore. You can be a happy artist instead.
Why This Book?
Following the success of The Part-Time Artist, I started thinking about what would be the follow-up. I had several ideas, including business, time management and specific guides for specific fields of artistry. But in the end, I decided to go with a subject very close to my heart: mental health.
I realised that every artist I spoke to (on the podcast or on social media) had struggled with mental health at some point in their career. As I researched the subject more, I also discovered studies that show that people in the creative industries are THREE TIMES more likely to suffer from a mental illness such as depression or anxiety.
As an artist, I have rarely read or heard about advice for my mental health in the context of creativity. There are a lot of self-help books or methods available out there, but nothing specifically designed for creative people. So I decided I would write that book myself!
The Writing Process
I started the writing process by researching the subject thoroughly. I gathered studies and documents talking about various mental illnesses, about recovery, about treatment and risk factors.
From the beginning, I decided that I wanted to write a prevention book. Meaning a book about all the things you can do to prevent or at least diminish the impact of mental health problems. As I am not a psychologist or doctor, I didn't want to talk about things I didn't know.
I wanted to make it as concrete as possible, because I find that a lot of self-help books are way too "out there" and not down to the ground. I had the idea of a "mental health diet" that compared all the behaviours that make your mental health worse, as opposed to constructive and helpful behaviours.
With this plan in mind and all my research, I wrote the first draft during NaNoWriMo 2019. It was not an easy subject to write about. But the support of other writers during the challenge really helped me push through. I finished the first draft in 20 days.
In December, I started the editing process. I went through a training with Mind UK to become a Mental Health First Aider, so that I could add a chapter about mental health crisis and how to get help.
In 2020, I worked with my usual team to edit and illustrate the book: my editor Vicky Brewster and my illustrator Juan Carlos Porcel. Like for The Part-Time Artist, I am also preparing a workbook that readers can use to follow the content of the book with their own experiences.
Content
Mental Health and Creativity: a chapter about why it is important to talk about mental health and why the creative industries are not well equipped to deal with it.
Your Old Mental Health Diet: in this chapter, I list a lot of behaviours that are known to make your mental health worse. I speak about my bad habits, and give you examples of how they made my life more difficult.
Hopes and Expectations: before you can improve your habits, you need to understand why you do them in the first place. In this chapter, I talk about our expectations as artists, as well as important concepts such as guilt and purpose.
Your New Mental Health Diet: now that you are ready to change, it's time to adopt positive and productive habits. In this chapter, I list a lot of options for you that you can pick and choose to make your own menu!
Crisis Strategies: despite all the prevention, sometimes it is impossible to avoid a crisis such as panic attacks, anxiety or more extreme crisis such as suicidal thoughts. This chapter is about getting help when you need it and how to do so.
Keep Creating: in the last chapter of the book, I give you strategies to continue creating despite mental health problems, so that you can be a long-lasting artist!
Formats
EBOOK: You can pre-order the ebook on Amazon today! It will be delivered on your Kindle on April 11th. You'll be able to order the ebook in other stores (Kobo, B&N) from April 11th.
PAPERBACK: It will be available to order on Amazon from April 11th. It's a print-on-demand system, so it will be delivered directly to your address.
AUDIOBOOK: I intend on working on the audio version of the book this summer. Once it's done, it will be available on Audible and iTunes.
Any question?
Let me know in the comments!
Céline is an author passionate about helping fellow artists reach their potential and live a happy, balanced life.